Rail Shoulder
Rail shoulders are cast in the concrete railway sleepers to fix elastic rail clips and steel rail. According to different production processes, rail shoulders can be divided into cast-in rail shoulder and weld-on shoulder, and both of the two types of rail shoulders have the function of fixing elastic rail clips and protecting the rail clips from being stolen. As a professional manufacturer and supplier of rail fastenings, AGICO provides high quality rail shoulders with various standards.
Cast-in shoulder
As the embedded part of rail fastening system, the casting shoulders are pressed in concrete rail sleeper and assembled with E clip in order to fasten the rail track. The raw material we use to produce cast-in shoulder is cast iron, such as GB/T 1348-1988, NF EN 1563(1997), ISO1038, DIN 1693, JIS G5502 (2001), KS D 4302, GOST 7293(1985) or BS EN 1563(1997). The mechanical property and chemical composition of the rail cast iron shoulder are shown below:
Product
Rail shoulder
Application
UIC54
UIC60
115RE, ,50kg rail, 60kg rail,BS80lbs, BS100lbs, ect.
Material
Name
QT500-7
QT450-10
QT400-15
Standard
GB 1348-88
GB 1348-88
GB 1348-89
Chemical composition(%)
C:3.60-3.80
C:3.40-3.90
C:3.50-3.60
C:3.60-3.80
Mn:0.2-0.5
Mn:≤0.5
Si:2.50-2.90
Si:2.70-3.00
Si:3.0-3.2
P:≤0.08
P:≤0.07
P:≤0.07
S:≤0.025
S:≤0.03
S:≤0.02
Tensile Strength
≥500 Mpa
≥450 Mpa
≥400 Mpa
Yield Strength
≥320 Mpa
≥310 Mpa
≥250 Mpa
Elongation(%)
≥7
≥10
≥15
Hardness
170~230HB
160~210HB
130~180HB
Metallographic organization
ferrite + pearlite
graphite + ferrite + pearlite
ferrite
Surface
plain (oiled)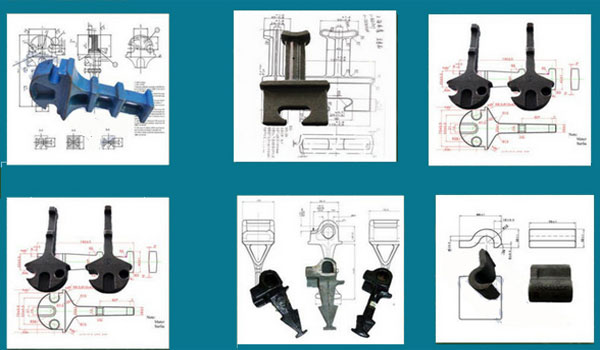 Weld-on shoulder
The weld-on rail shoulders are applied at the typical position of rail track where the rail shoulders are weld on flat steel plate rather than the standard tie plate. As its name, the weld-on rail shoulders are produced by hot forging, according to AREMA standard. In general, the materials for weld-on rail shoulders production should be low or mid carbon steel, just according to the clients' requirements.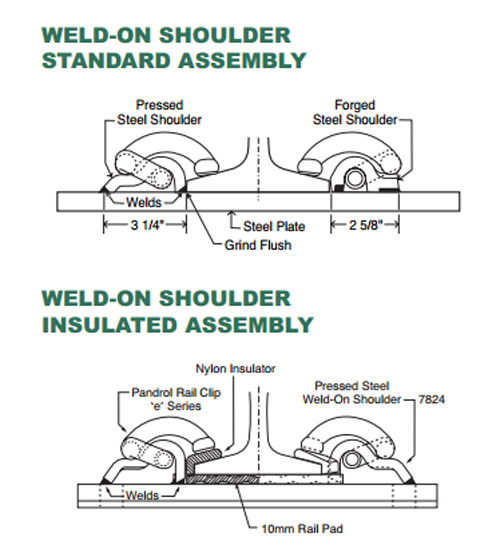 Notes for rail shoulders
The weld on rail shoulder fastening makes the fabrication of rail retaining units on both steel sleepers and steel base plates possible when the E style of elastic rail clips are used for the fasting of the rail.
Even though the rail cast in shoulders are usually embedded in the concrete rail sleepers, they can also be welded on to longer length steel sleeper sections or bearers for use in the fabrication of switch and crossing layouts where vertical rail geometry is employed.
The welding ability of rail shoulders in particular position which is dictated by layout design makes rail shoulders much useful and cost effective.
Rail shoulder accessories used for specific rail sections should be adopted according to design criteria in order to achieve the correct elastic clip toe loading. And certain rail shoulders with milled weld area faces are provided to achieve a better weld integrity.
Get In touch Now!
We receive enquiries in English, Español (Spanish), Русский язык (Russian), Français (French) and العربية (Arabic). Our professional team will reply to you within one business day. Please feel free to contact us!