Three types of rail pads from AGICO Rail
Rail pads
can prevent rail sleeper abrasion and the crushing of the sleeper under the rail foot. Rubber rail pads are normally designed to a specified load-deflection characteristic. The initial stiffness of the rail pad is designed to be low so that that their deformations under the springs toe loads is quite substantial. This ensures that the rail pad remains in intimate contact with the rail despite any vertical movements of the latter. When the wheel is over the pad, the rail pad stiffness must be high to prevent large movements which can result in the metal spring becoming loose. Such a load-deflection characteristic can be obtained by introducing grooves in the rubber rail pads. Rubber pad or grooved rubber rail pad are made up of rubber or plastic to dampen the shocks of vibrations of a passing train. Next, I will show you more about three types of rail pads widely used in railway system.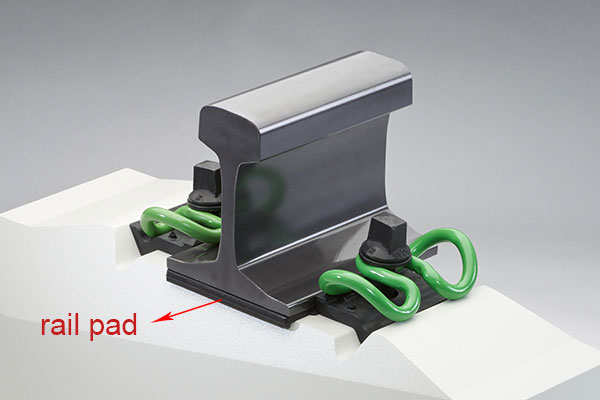 Grooved Rail Pads
As a leading manufacturer of resilient rail pads to protect concrete
rail sleepers
from damage caused by the dynamic forces of passing trains, AGICO Rail is one of the few approved suppliers of grooved rubber pads to the China Railways. Its grooved rubber pads are also used extensively in China and abroad.
The combination of grooved design and selected rubbers gives these pads their unique high resilience, robustness and anti-weathering properties. Their superiority to those manufactured from other materials has been amply proven by their ability to reduce dynamic forces by up to 65% - a crucial consideration as railway systems worldwide adopt higher speed and greater axle loads.
The grooved rubber pads positioned between the underside of the rail and top of the sleeper provide effective impact attenuation and extended life.
Studded Rail Pads
Manufactured in a variety of natural & synthetic elastomers, studded rail pads are designed to withstand the most demanding operating environments.
Studded rail pads are the first choice of rail systems worldwide as they adopt higher speeds and increased standards of passenger comfort and safety.
Studded rail pads can provide excellent impact attenuation, noise suppression, improved passenger comfort and extended track and ballast life.
Composite [Dual Polymer] Rubber Pads
The unique design of these rail pads uses a combination of two polymers to provide superior performance and extended pad life.
Get In touch Now!
We receive enquiries in English, Español (Spanish), Русский язык (Russian), Français (French) and العربية (Arabic). Our professional team will reply to you within one business day. Please feel free to contact us!