Different materials of railroad spikes for sale
Railroad spikes
are roughly chisel-shaped and with a flat edged point, the spike is driven with the edge perpendicular to the grain, which gives greater resistance to loosening. The main function is to keep the rail in gauge. When attaching
tie plates
the attachment is made as strong as possible, whereas when attaching a rail to tie or tie plate the railroad spike is not normally required to provide a strong vertical force, allowing the rail some freedom of movement.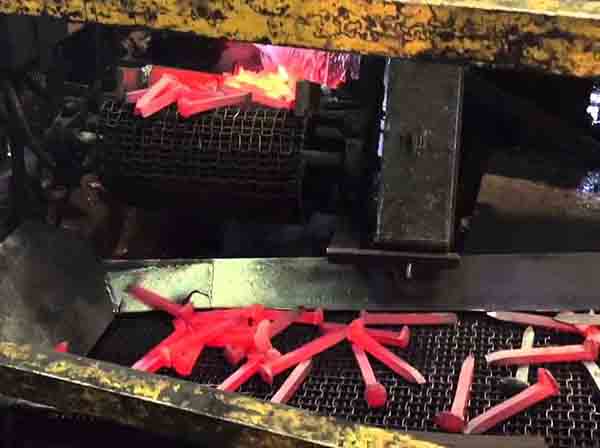 Different materials for railroad spikes
Originally railroad spikes were driven into wooden sleepers by hammering them with a heavy hammer by hand. This manual work has been replaced by machines, commonly called "spike drivers" (A machine that removes spikes is called a "spike puller"). Splitting of the wood can be limited by pre-boring spike holes or adding steel bands around the wood.
In the past there were two distinct grades of railroad spikes, "low carbon (LC)" and "high carbon (HC)". The older "low carbon" spikes specified and very low carbon content of around 0.13%C.
The new railroad spikes have an average content of about 0.22%C. The revised specification was designed to "bridge" the gap between the older low and high carbon grades. The carbon range for these track spikes is from 0.17 to 0.25%C, and the manganese content is 0.90-1.35%Mn.
Both of these elements increase the strength of the material. The goal was to provide a railroad spike with the higher strength of the high carbon spike and the impact resistance and ductility of the low carbon spike. This specification has a minimum yield strength requirement of 46,000 psi; high for a low to medium carbon product. Thus, the resultant railroad spikes for sale have the advantage of improved impact resistance and improved ductility, while maintaining a relatively high strength. Buy railroad spikes from professional manufacturer-AGICO Rail.
Get In touch Now!
We receive enquiries in English, Español (Spanish), Русский язык (Russian), Français (French) and العربية (Arabic). Our professional team will reply to you within one business day. Please feel free to contact us!