Rail fastenings in railway system
Fastener is required to every rail system, for example, ralraod rails,
highway guard rail
, industrial railing system, etc. In a complete rail fastening system, every component is used to secure running rails into rail chairs or baseplates or directly to railway sleepers, bearers or other rail supports. Rail fastenings can keep the rails fastened to railway sleepers (transfer of forces), provide a proper slope of rail foot (1:20, 1:40) in the transverse plane, and prevent the steel rails from longitudinal movement, damp vibration and noise coming from the rails.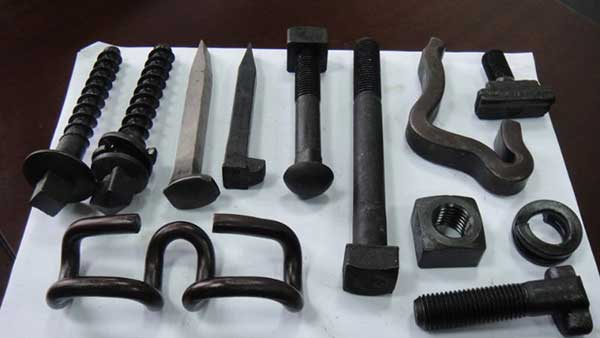 Functions of rail fastenings
Hold rails securely in the rail seat.
Limit the rotation of the rail about the outer edges of the rail foot.
Minimise longitudinal movement of rails through creep and thermal forces.
Assist in retention of track gauge.
Not cause damage to the rail.
Where practicable, rail fastenings shall either be self-tensioning or permit tightening of the fastening to a predetermined load.
Where existing rail fastenings are not effective in minimising longitudinal movement of rails, it is permissible to fit rail anchors as a method of meeting this requirement.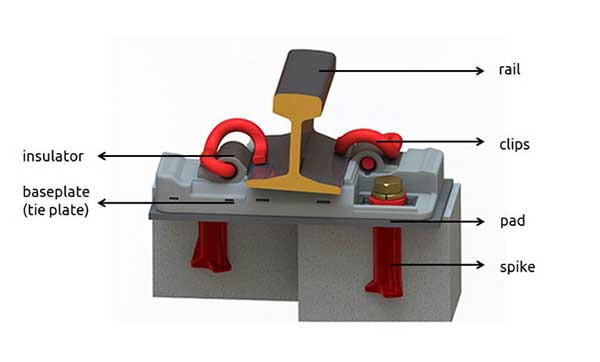 Components of Rail Fastenings
AGICO Rail is ISO 9001:2008 certified through an SGS SA audit, and is also approved by the China Railway Product Testing and Certification Center (CRCC). Our products have been approved by world class railroad companies, including UPRR, BNSF, SBB, SRT, PNR, and MTR. We have a professional R&D team and all the members work hard on the development and improvement of rail fastenings in each field.
Rail clips
Rail clips are used to fasten the rails to the underlying baseplate.
Rail spike
A rail spike (also known as a cut spike or crampon) is a large nail with an offset head that is used to secure rails and base plates to railroad ties (sleepers) in the track.
Rail screw is a large (~6 in or 152 mm length, slightly under 1 in or 25 mm) metal screw used to fix a tie plate or fasten rail.
Rail tie plate
A tie plate is also called a baseplate or sole plate. Rail tie plate is used in rail construction to support the rails. Tie plates are generally used to take the load of rail and distribute the load to the sleepers offering proven economies.
Rail insulator
Rail insulator is used to adjust rail gauge and insulate the rail from ties and clips.
Rail pad
The rail pad, originally called sole plate, is used when rail is attached to concrete, rather than timber, ties or sleepers. Rail pads function to reduce fatigue cracking of the concrete ties, believed to be driven by impact and vibration from the passing train.
The raid pad can prevent rail-sleeper abrasion and the crushing of the sleeper under the rail foot. Rubber rail pads are normally designed to a specified load-deflection characteristic. The initial stiffness of the rail pad is designed to be low so that that their deformations under the springs toe loads is quite substantial. This ensures that the rail pad remains in intimate contact with the rail despite any vertical movements of the latter. When the wheels are over the rail pads, the latter's stiffness must be high to prevent large movements which can result in the metal spring becoming loose. Such a load-deflection characteristic can be obtained by introducing grooves in the rubber rail pads. Rubber pad or grooved rubber rail pad are made up of rubber or plastic to dampen the shocks of vibrations of a passing train.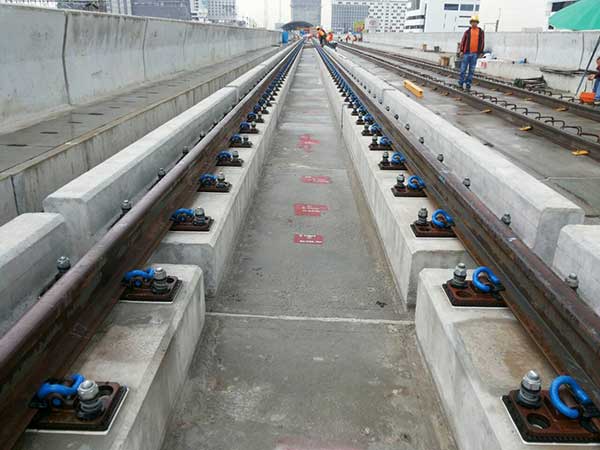 Compatibility of rail fastening components
Rail components that are to be used together (including rail supports, rail fastenings, pads and rail foot insulators) shall be compatible. In general, rail fastenings matched different railway standards would be more convenient for customers, for they could have more choices for the correct rail fastening components regarding the environment, the transportation requirements and other physical issues.
How to select the correct rail fastenings?
The selection of rail fastenings must take into account the following factors:
track geometry
permissible and enhanced permissible speeds
track category
loads arising from braking and acceleration of trains
vehicle axle loads
electrical insulation requirements
underlying formation and structures supporting the track
the form of track construction.
High quality rail fastenings from AGICO Rail
AGICO Rail is a leading manufacturer and supplier of rail fastenings in China. We are dedicated to the supply of the best quality fastenings to the rail industry, as well as contributing to the availability of safer and more convenient transport.
We have a professional R&D team, who work hard on the development and improvement of rail fastenings in each field.
We have already been awarded 18 patents for different products, including metro railway fastening systems and tramway fastening systems.
In America, mainly in the US and Brazil, we supply E type rail fastening, W14 rail fastening systems, rail clips to metro, tramway fastenings, crane rail clips, track bolts and joint bars for rail connections, screw spikes, tie plates, and concrete ring connection bolts for tunnels. These products are according to the standards of AREMA, IFI, ASTM, and UIC, and any additional specifications from clients.
For Western Europe and Africa, we supply W rail fastening systems, spring blade fastening systems, KP fastening systems, metro rail fastenings, fish plates and fish plate bolts, sleeper screws, lock spikes, and spear bolts for tunnels etc. These products are manufactured to the standards of UIC, NF, DIN, and BS, as well as client specifications.
In Eastern Europe and middle-Asia, we supply W rail fastening systems, KP fastening systems, rail joint bars and track bolts, track spikes and tie plates to this area. We manufacture and supply according to GOST, UIC, and DIN standards and other specifications requested by clients.
For the Southeast Asia and Australian regions, we provide E type rail fastenings, W rail fastenings, heavy haul rail fastenings, metro rail fastenings, fishplate and bolts, track spikes, turnout accessories, and concrete ring connection bolts etc. We manufacture and supply according to BS, AS, JIS, and UIC standards, as well as specifications requested by clients.
Get In touch Now!
We receive enquiries in English, Español (Spanish), Русский язык (Russian), Français (French) and العربية (Arabic). Our professional team will reply to you within one business day. Please feel free to contact us!