Railway clamp's functions in railway fastening system
As a main type of rail fastenings,
railway clamps
are widely applied to many types of
railway fastening systems
. Such as tension clamp fastening system, bolt clamped fastening system and e clip fastening system. As we all know the importance of railway clamps, while why are the railway clamps so important in railway fastening system? We should begin with the functions of railway clamps.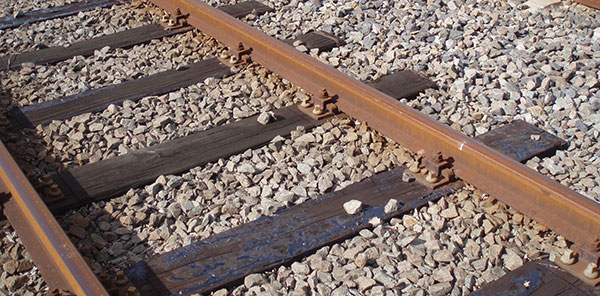 What are the functions of railway clamps?
As an important type of rail fastenings, the basic function of railway clamp is to fix the steel rails on
railroad ties
, keep the track stable and keep certain gauge distance from horizontal and vertical movement of rails. So to speak, railway clamp is known as the key intermediate connection part.
What are the features of railway clamps?
In blade fastening system and clip fastening system, rail blade and rail clips are the main fasteners, and both of them have the common features of elasticity. While in clamp fastening system, railway clamp itself has no feature of elasticity, it belongs to rigid fastenings. Railway clamps can provide sufficient rigidity for the safety of railway transportation.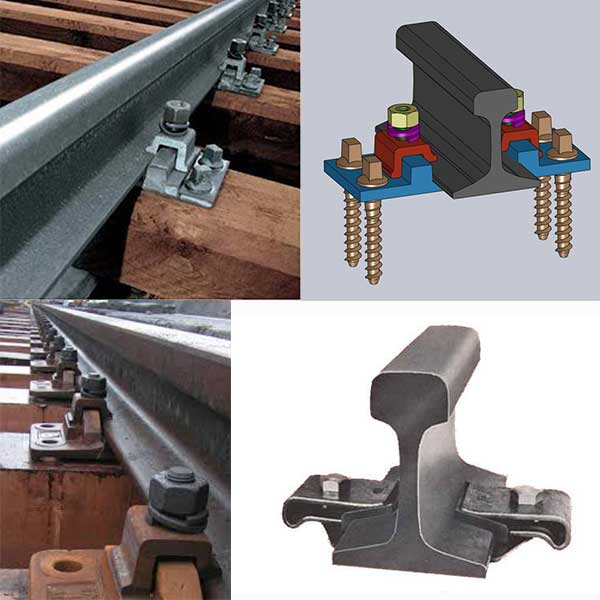 Development of railway clamps in China
In the history of China's railroad construction, there three main types of rail clamp fasteners designed according to dimensions of rails. They are bolted type clamp in early times, 63 type railway clamps and 70 type railway clamps.
Due to limited levels of technology the designation of bolted type clamp embedded wooden screw in the concrete sleeper which connects fasteners and sleeper simply. This type has been eliminated. Now it has been seldom used in rail fastening system.
70 type railway clamps are applied to the concrete sleeper with ditch and it is suitable for steel rails of 43KG and 50KG. It can adjust gauge distance through replacement of different size of railway clamps. Connecting screw spike and sleepers is the form of railway anchor. At present in China, new railroad line with this type of railway clamps has been rarely laid, only in line with repairing. This kind of clamp fasteners is less elastic and clamping force reduces greatly, so it has been eliminated basically.
Railway clamps in KPO rail fastening system
We all know about the famous KPO fastening system for its good performance in many countries. KPO fastening system belongs to clamp fastening system. It includes KPO3, KPO5, KPO6 and KPO9 etc. In general, railway clamp has to be in accordance with DIN, AREAM standards, etc. As to the material, rail clamps are usually made of low carbon steel or alloy steel by hot forging, rolling and casting.
Main components of KPO fastening system
KPO fastening system is made up of the following items:
Railway Clamp
It is used together with rail tie plate and bolt. In China it is made of steel of Q235 or 45#.
Rail Bolt
Rail bolt is also called hook bolt, it is used for the fastening of tie plate.
Tie Plate
Rail tie plate is a base plate, the foundation of rail fastening system.
Screw Spike
Screw spikes are used to fasten tie plate to wooden sleepers. When used in the concrete sleeper, it is often together with the plastic dowel.
Spring Washer
Normally spring washers are used to distribute the load of fastener.
Surface treatment and package of rail clamps
The surface of railway clamps is often plain oiled, black oxide, galvanized, hot dip galvanized and sherardized. During transport, railway clamps are commonly packed in wooden boxes or sacks and wooden pallets for 25KG per package.
All in all, railway clamp plays an important role in clamp fastening system in railway, it is widely used in many countries and areas, many plants still produce them to meet the needs in China and all over the world, according to DIN, AREMA and other standards. It is an excellent invention for the construction and development of railroad.
Get In touch Now!
We receive enquiries in English, Español (Spanish), Русский язык (Russian), Français (French) and العربية (Arabic). Our professional team will reply to you within one business day. Please feel free to contact us!