Features of rail tie plates
Rail tie plate
is also called rail base plate or sole plate and it is a main component in railroad construction of a crane rail or track support system.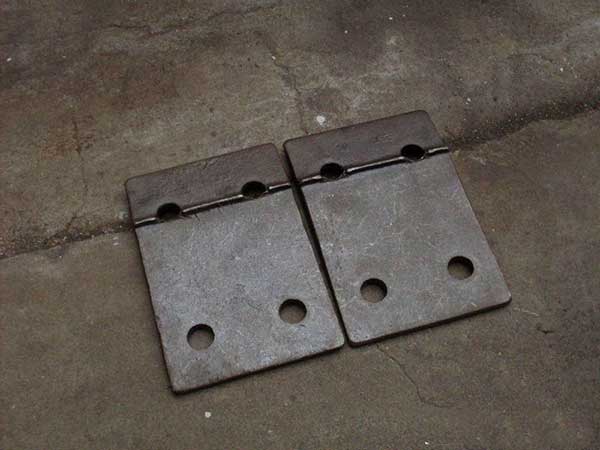 Functions of rail tie plates
In a real world application, single shoulder tie plate and double shoulder tie plate are the two types of most widely used rail tie plates. The use of single or double shoulder tie plates makes a more stable track and greatly lengthens the life of wood rail ties. Punched and sheared from hot-rolled steel sections, rail tie plates provide proper cant, uniform bearing surface for the rail and better load distribution to the ties. They hold the rail to gauge, providing more uniform wear to rail head and protect against undue wear to ties. Railway tie plates are designed with a long end or field end to be located outside of the rails. In the case of single shoulder tie plates, the shoulder is placed on the field end of the plate. The gauge end or short end of the plate is located inside of the rails. When ordering, identification of the rail section or the width of the rail base should be specified, or you can bring the drawing or sample. High quality rail tie plates are also available from our stocks which offer appreciable savings on railroad track and industrial sidings.
Advantages of rail tie plates
Rail tie plates distribute the load from the rail to the ties and provide uniform bearing surface for the rail and prevent rail movement.
Rail tie plates provide proper cant and obtain central loading and more uniform wear on the rail head.
Rail tie plates hold the rail rigidly to gauge and protect ties against undue wear, which prolongs the service life.
Rail tie plates are fabricated from heavy hot-rolled steel sections which are punched and sheared to size.
Why choose AGICO rail tie plates
AGICO Rail can offer various sizes of new double shoulder tie plates for 5 1/2" and 6" base rail (including the exclusive supply of a Plan 4, 7 3/4" x 11" plate for 5 1/2" base rail) and a large supply of various relay single and double shoulder tie plates. The 11" plates and relay plates will offer you appreciable savings and economies, especially for industrial sidings and in-plant track. In ordering, identify rail weight and section, such as 115 lb. AREMA, and/or width of rail base, and size of spikes. As a professional manufacture of all types of railroad fasteners, AGICO rail can offer immediate shipments of rail tie plates in any quantities from nationwide warehouses to all over the world.
Get In touch Now!
We receive enquiries in English, Español (Spanish), Русский язык (Russian), Français (French) and العربية (Arabic). Our professional team will reply to you within one business day. Please feel free to contact us!